At APEACES.COM, we design many beautiful peaces of clothing, we have created a natural hair oil that will help keep your hair healthy,  we also design/develop websites.  APEACES.COM is a company that is  form and function. Set-Up Queen considers herself a Fashion Artist because all of the peaces she designs are like a fine piece of artwork. Being born in Philadelphia, PA and having lived and designed in Philadelphia most of her life, it is befitting  that one of her fondest memories of designing is when she participated in 'Philadelphia Dresses The World'. Tia and P aka Kenya were the models, they may have been 5 and 6 at the time. The day will never be forgotten, they came on stage and they received a standing ovation. The clothing at APEACES.COM  is handcrafted clothing for women and girls, many types of fabrics are used. When you see something you want, please be aware that your order can take up to three weeks from the order date to ship. Keep in mind, there are no seasons or reasons at APEACES.COM, we create wearable art,  most of our clothing is designed to be worn in Spring or Fall. Some peaces can be worn in the Summer, we rarely design clothing for winter. We design coats and jackets for cool/winter days.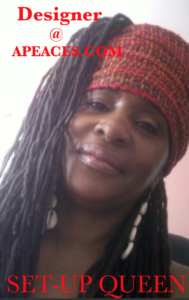 We also design  collectable DOLLS, it is possible to buy an outfit for a girl and a DOLL with matching clothing. Our dolls are fashion dolls with a purpose. They can be collected and played with too. We design and sew for Wedding Party members(females) and the Bride, we also customize clothing for women and girls.
At APEACES.COM, WE CREATE CLOTHING THAT WILL BRING OUT THE BEAUTY IN YOU
We are TIMELESS, not trendy, our garments and dolls are a great investment that will hold their value in style.
At APEACES. COM we take pride in the fact that we are FORM & FUNCTION, because we are form and function, you will be pleased with the look and functionality of  anything you choose for APEACES.COM to create for you. 
THE APEACES.COM STAFF CAN BE REACHED BY PHONE AT 267.225.5092, THE STAFF WILL BE AVAILABLE TO ANSWER THE PHONES, WEDNESDAYS AND THURSDAYS, 12:00 p.m.- 3:00 p.m., EASTERN STANDARD TIME. IF WE RECEIVE A CALL AT ANY OTHER TIME, LEAVE A MESSAGE AND A STAFF MEMBER WILL  RETURN THE CALL ASAP.
THE APEACES.COM  staff can be reached by email at,  apeaces-customercare@setupqueen.com   For your information, see the apeaces.com Shipping & Return terms
At APEACES.COM, we are committed to uplifting the youth in our community. PLEASE VISIT THE FOLLOWING:
FIT & FABULOUS (girls)
HELP THE CHILDREN
SEWING WTH THE SET-UP QUEEN (girls)